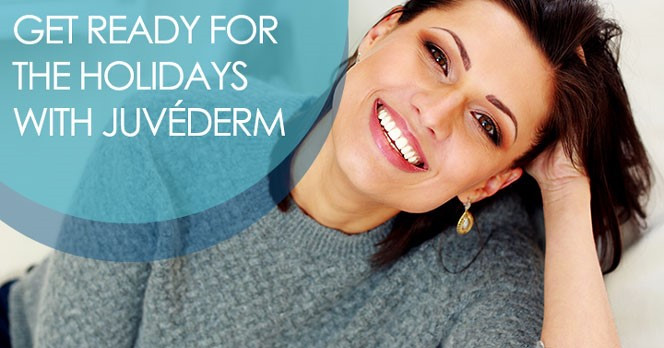 The holidays are almost here, and if you're concerned about some of those superficial lines and wrinkles around your eyes and mouth, talk to the team at UCI Plastic Surgery about treatment options with facial fillers. Dermal fillers are an attractive option for patients that want to erase some of those signs of aging without surgery, and we can customize a treatment plan that includes injectables and other non-surgical treatments to create your perfect look!

Here's how one of the most popular facial fillers, Juvéderm, can freshen up your look for the holidays:
Smooth Out Wrinkles Around the Eyes
If crow's feet are your biggest concern, Juvéderm can help to smooth out the delicate skin around the eyes. We can also inject Juvéderm in the hollows around the eyes to plump up the area and create a fresh-faced look. Juvéderm adds volume right under the skin so that moderate to severe lines and wrinkles will simply disappear!
Erase Lines Around the Mouth
Some of the most common side effects of aging are fine lines and wrinkles around the mouth and nose. These can be filled in with the right type of facial filler. Juvéderm is every effective for treating lines around the mouth and can help you maintain youthful contours around the lower face region. We can simply inject these Facial Fillers Costa Mesa directly into the tissue to plump up the area and create a softer, more youthful contour.
Enhance the Size and Shape of Your Lips
Juvéderm is also an excellent facial filler for performing a non-surgical lip augmentation procedure. If you want more defined lips, and a more feminine shape, consider getting Juvéderm for the lips. We can make a recommendation on how much of this facial filler you actually need during your consultation.
One of the great things about Juvéderm facial fillers is that the results are long-lasting. Most patients enjoy results for up to six to 12 months after their treatment. We can re-inject at that time or perform touch-up treatments along the way if you need something more aggressive.
Ready to freshen up your look with Juvéderm for the holidays? Schedule your facial fillers consultation today!