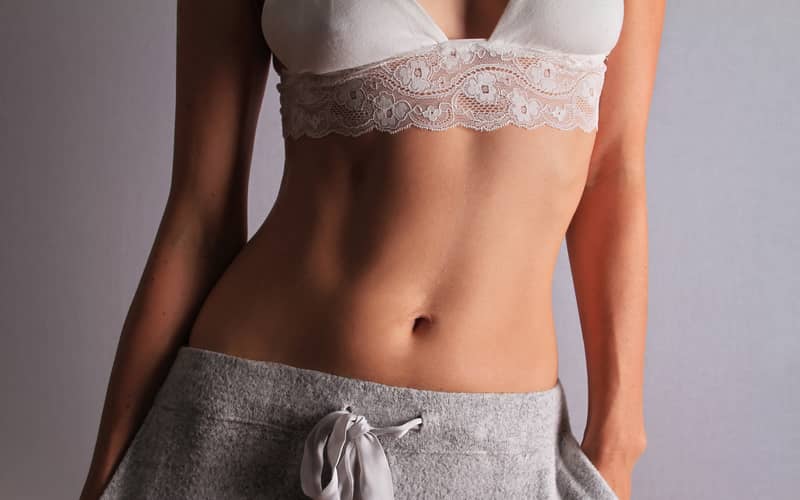 A trim and toned midsection is a coveted feature of a shapely, attractive figure. Abdominal exercises, an active lifestyle, and a healthy diet can go a long way in slimming the body, but for some people, these efforts have little to no effect on the waistline. Genetics, pregnancy, or dramatic weight loss can make it impossible to achieve a slender abdomen using traditional approaches, and in these cases, a tummy tuck may be the only way to get the results you want.
The board-certified plastic surgeons at UCI Plastic Surgery can perform a full or mini tummy tuck to help you achieve your desired body contours. By evaluating your anatomy, concerns, and medical history, our surgeon will determine the most effective treatment plan for you.
What can a Full Tummy Tuck Treat?
A tummy tuck, or abdominoplasty, can tighten and flatten your midsection to create a more shapely figure. A full tummy tuck can address the following upper and lower abdominal concerns:
Separated or weak abdominal muscles
Loose, sagging skin
Excess fat
What can a Mini Tummy Tuck Treat?
If your concerns are with the lower abdomen only, you may be a good candidate for a mini tummy tuck. This procedure can address a lower belly "pooch" caused by:
Loose skin below the belly button
Excess fat below the belly button
What is Involved in a Full Tummy Tuck?
The full tummy tuck procedure involves a horizontal incision from one hipbone to the other. A second incision around the belly button may also be necessary. Our plastic surgeon will repair weak or damaged muscles, excise unnecessary skin and fat, and reposition the belly button and skin to create a smooth, aesthetically pleasing midsection.
What is Involved in a Mini Tummy Tuck?
The mini tummy tuck is a shorter procedure that requires a smaller horizontal incision between the hipbones. Our surgeon then removes excess skin and fat and closes the incision.
Recovery from a Full vs. Mini Tummy Tuck
Both procedures involve a recovery period during which you will have some discomfort and physical activity restrictions. Pain can be managed with medications as directed by our plastic surgeon.
Strenuous activity, exercise, and heavy lifting must be avoided until the surgical site has healed. As your recovery progresses, our surgeon will approve more intense movements. It is important to follow all post-operative instructions in order to support your body's natural healing process and ensure optimal results. Depending on the extent of your procedure and your general health, it will take around eight weeks to heal fully.
Since the full tummy tuck involves a larger incision and a larger treatment area, recovery is longer with this procedure compared to the mini tuck. You can expect to take about two weeks off work and normal activities after a full tummy tuck. After a mini tummy tuck, you will need approximately one week of recovery before returning to light activities like driving and shopping.
Results from a Full vs. Mini Tummy Tuck
As you heal, post-operative swelling will dissipate, and you will begin to see your results. Your midsection will be firmer and your silhouette will be slimmer. It typically takes about a year for incision lines to fade, though you won't have to wait a year to rock your bikini. Most tummy tuck incisions can be concealed below the waistline of a bikini bottom.
Schedule your Orange County Tummy Tuck Consultation
To find out which type of tummy tuck is right for you, call to schedule a consultation with one of our board-certified plastic surgeons. We have three convenient Orange County locations.
Call 714-456-3077 for our Orange and Tustin locations, or call 949-999-2411 for our Costa Mesa location. We look forward to helping you feel and look your best!