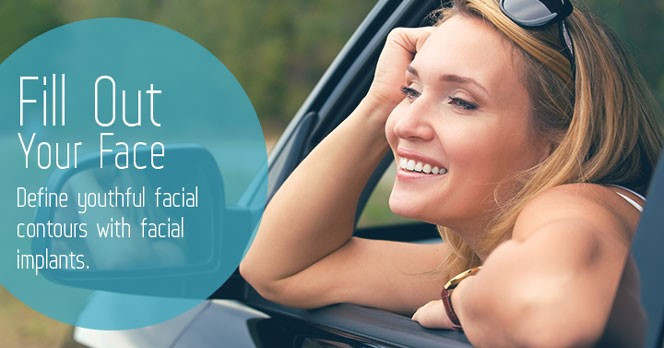 One of the signs of youth is full, plump cheeks, but many people lose the fullness in their face as they get older. If you are noticing your face has a gaunt appearance, or your cheeks appear sunken in, talk to us about the benefits of a cheek augmentation procedure. This facial surgery procedure can be very effective for restoring youthful contours and can enhance your smile! Your smile will be brighter and more attractive when your cheeks have some roundness to them. Undergoing this procedure now means you could be looking and feeling your best just in time for the holiday season.
What Can Cheek Augmentation in California Do for Me?
The cheek augmentation procedure can reshape the mid-face area, and may even take a few years off your appearance. We place a small, customized implant beneath the surface of the skin so the cheeks appear rounder and fuller. This can create a more contoured look and help to balance out your facial proportions.
Some of the benefits of getting cheek implants include:
Can produce both subtle and more dramatic changes
Restores volume loss around the cheeks
Improves the facial profile
Can create a more youthful face shape
May make you appear more photogenic
Relatively short recovery time
Requires minimal incisions that are easy to hide
Provides permanent results
The cheek implant procedure is performed by making a small incision inside the mouth or just below the lower eyelashes. The implant is inserted into the facial compartment in the upper cheeks to accentuate the cheekbones, or in the mid-cheek area if the cheeks appear to have a sunken-in appearance. Some patients end up getting both, depending on the extent of fat and muscle loss.
Facial Surgery for the Holiday Season
Cheek augmentation California is one of several facial surgery procedures that can enhance your look just in time for the holidays. If you're ready to rejuvenate your look for the season and want to put your best face forward at holiday events, consider the benefits of cheek augmentation. Unlike injectable fillers that can also be effective for plumping up the cheeks, cheek implants provide permanent results and are customized for your face shape.
Schedule your cheek augmentation consultation at UCI Plastic Surgery today!