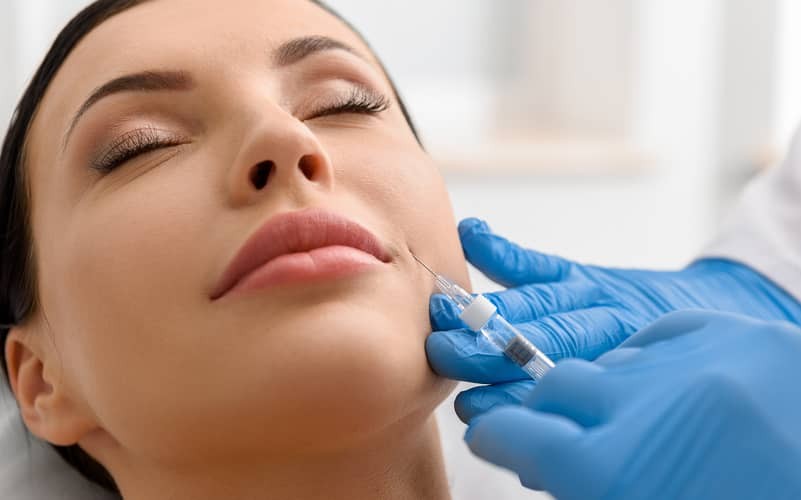 Aging is inevitable, but succumbing to the signs of aging isn't. At UCI Plastic Surgery, we offer injectables to treat the appearance of fine lines, wrinkles and lost facial volume. While not all injectables treat the same causes of facial aging, they do all work to revive your skin's appearance.
Dermal Fillers
As you age, your face begins to lose some of its natural fat and collagen, leading to a loss of volume as well as the appearance of fine lines and wrinkles. Fat and collagen loss may be accelerated by additional factors, including sun exposure, your genes and your lifestyle.
Since aging and other factors are inevitable, our Orange County patients often turn to dermal fillers to restore youthful skin. Dermal fillers inject a gel-like substance into your skin, smoothing your face by adding volume beneath the skin and stimulating new collagen growth. Some of the filler ingredients are also found naturally in the body. Dermal fillers are used to treat:
Thin lips
Chin creases
Drooping lower eyelids
Lines around the nose and mouth
Lines around the eyes and mid-face
Sunken areas of the face, such as cheeks and temples
Asymmetrical facial features
Dermal fillers can be used on their own to prevent the signs of aging or to treat the early signs of aging. They may also be combined with facial surgery to improve your final results.
We offer several dermal fillers to treat different signs of aging. To help you receive safe and positive results, UCI Plastic Surgery uses only FDA-approved dermal fillers, including:
Our board-certified plastic surgeons will help you determine which dermal filler is best for you during your initial consultation.
Wrinkle Relaxers
Similar to dermal fillers, wrinkle relaxers reduce the appearance of fine lines and wrinkles caused by aging. However, wrinkle relaxers work in a different way than dermal fillers do.
Rather than filling in areas of your skin that have lost fat and collagen, wrinkle relaxers minimize movement in targeted facial muscles. Repeated facial movements over time form wrinkles in the skin. By relaxing that movement, these injections reduce the appearance of existing fine lines and wrinkles while preventing new ones from forming. Wrinkle relaxers can be used to treat:
Neck bands
Nasolabial folds
Forehead lines
Lip lines and bunny lines
Crow's feet and frown lines
Dimpling skin around the chin
Lines between the eyebrows
Sometimes our patients fear the "frozen face" effect, but our board-certified plastic surgeons use only FDA-approved wrinkle relaxers, including BOTOX® Cosmetic and Dysport®, and have an in-depth knowledge of facial anatomy to help you achieve a natural look. Our plastic surgeons place injections in targeted locations and use precise amounts, producing natural, beautiful results.
Keep Your Skin Looking Young
Results from dermal fillers and wrinkle relaxers can last anywhere from four to 18 months, depending on which product is used on your skin. Additional appointments will be required if you wish to maintain your results long term. Though follow-up treatments will be needed, both dermal fillers and wrinkle relaxers are quick and feel no worse than a pinch. In as little as 10 minutes, you'll be out the door and enjoying a fresh face.
Get Injectables in Orange County
With offices in Orange, Costa Mesa and Tustin, California, UCI Plastic Surgery makes it convenient for you to maintain youthful skin year round. Call 714-456-3077 to learn more about injectables and schedule a consultation with one of our plastic surgeons.