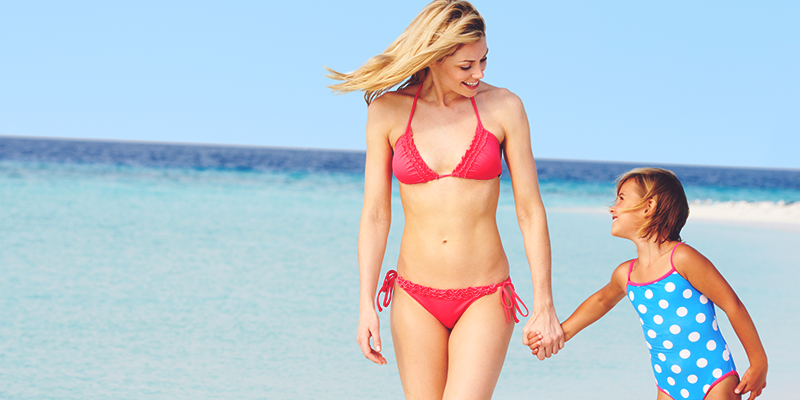 Life can become incredibly busy after becoming a mother. Screaming kids, a hectic schedule, errands that need to be run, the list goes on and on. Many women often struggle to get back their pre-baby bodies and may come to simply accept the changes pregnancy and childbirth despite how they may feel. Sagging skin, deflated breasts, and stubborn fat are frustrating, but for many mothers it could feel like it's just something they must live with. Not quite.
The team at UCI Plastic Surgery understands the struggles that moms like you face, and for that reason they offer personalized Mommy Makeover procedures to help women feeling confident in their bodies once again. This Mother's Day, take time for yourself and treat your body with a procedure that is personalized to you, your concerns, and your life. We promise that you will be back chasing the little ones around the house in no time!
Mommy Makeovers Designed Specifically for You
Mommy Makeover procedures are designed with moms in mind. All your needs, concerns, priorities, hopes, and goals will be taken into consideration during your consultation with a member of our Southern California plastic surgery team. At UCI Plastic Surgery, we believe that your Mommy Makeover should be personalized to you!
Regardless of whether you have a clear idea of the end results or want to explore the different options, the knowledgeable team at UCI Plastic Surgery is here to help. They will discuss the variety of different procedures offered and their recommendations for your unique Mommy Makeover.
Get that Head Turning Mom Bod
Are you ready to feel confident showing off your body again? Maybe even pull out that old bikini for a day in the Orange County sunshine?
Most women want their Mommy Makeover treatment plan to address the stubborn fat or loose skin on the stomach and to help reshape the breasts. These are accomplished using a combination of Liposuction, a Tummy Tuck, and Breast Augmentation.
Liposuction is used to reduce stubborn fat, whether it be around the abdomen, thighs, bra area, or just about anywhere you struggle with problem areas. Tummy tuck surgery is extremely popular with mothers as it is designed to reduce loose, excess abdominal skin and even tighten the underlying muscles that often become outstretched during pregnancy. Breast enhancement procedures are also key to a mommy makeover as they help to restore lost volume (breast augmentation) and lift the breasts back to their perky and youthful position (breast lift).
In your initial consultation, the schedule for your procedures will be planned. Some women prefer to have all the surgeries done all at the same time, while some will want the procedures to be done separately. Regardless of your preferences for your Mommy Makeover experience, the team at UCI Plastic Surgery will stick close with you to make sure that you are confident and comfortable throughout the entire journey.
Time to Begin Your Transformation
Mother's Day reminds women everywhere of the sacrifices we make for our family. If you are a mother and are discouraged with your post-baby body, UCI Plastic Surgery wants to help you feel back to your old self and treat yourself. If you are interested in making a positive change for yourself, schedule your initial consultation with UCI Plastic Surgery to find out more about how a Mommy Makeover can help you celebrate motherhood!