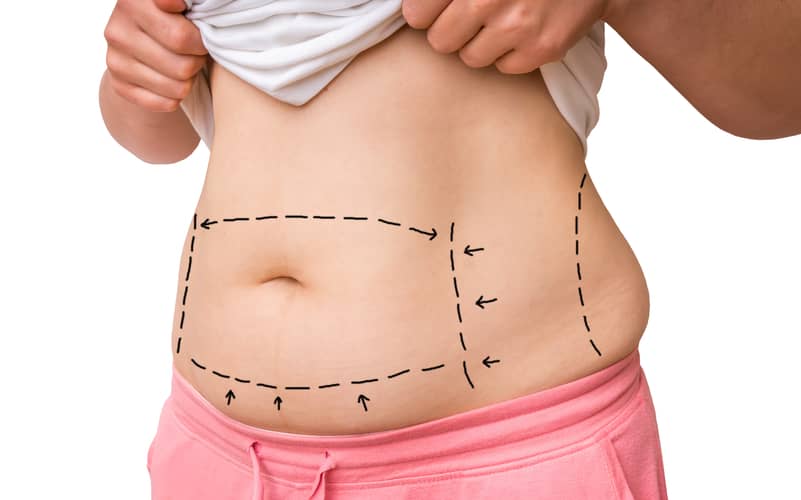 Bringing life into the world is a beautiful thing, but you may not feel so beautiful in your post-pregnancy body. The abdominal area, in particular, can be dramatically affected, and sometimes no amount of exercise or dieting can bring it back to its pre-pregnancy form.
At UCI Plastic Surgery, we've helped many womenin Orange County achieve a flatter midsection after pregnancy with tummy tuck procedures. Here are three important things for moms to know about this method of body contouring.
#1 A tummy tuck is not a weight loss solution.
Not only does clean eating and regular exercise promote longevity and keep you as energized as a busy mom can be, these healthy habits will go a long way to restoring your pre-pregnancy figure. However, once you have reached a healthy weight, you may find that your belly just won't get as flat as you'd like or that you have excess skin on your abdomen.
A tummy tuck will address loose, hanging skin and belly bulge. It also addresses abdominal muscles that stretch, and sometimes separate, during pregnancy. This condition is known as "diastasis recti". During the surgery, one of our highly trained plastic surgeons will repair the muscles and tighten your skin to create a slimmer, firmer waistline.
Some fat can be removed as part of a tummy tuck, but if you have a lot of excess fat on your abdomen, you may be a candidate for other body contouring procedures. Liposuction and CoolSculpting® are two effective methods of eliminating fat cells from the body. Our plastic surgeons may even suggest combining a tummy tuck with liposuction to achieve optimal results.
#2 You need to wait at least six months after being pregnant to have a tummy tuck.
Pregnancy and childbirth are not gentle processes for the body to go through. You need to allow several months for your body to heal completely and transition out of pregnancy-mode. It can also take several months of healthy eating and exercise to regain your strength and get to an optimal weight.
If you are breastfeeding, you will need to wait six months after you've stopped. It is not safe to nurse when you've had anesthesia or are taking pain medications, and both of those are part of the tummy tuck process.
Additionally, your body undergoes many changes when you stop nursing. You may find that your breasts could also use some enhancement and may want talk to one of our plastic surgeons about a mommy makeover, which includes multiple procedures to get the desired results.
#3 There are 2 types of tummy tucks.
You will have specific concerns and needs based on the results you seek. Our surgeons will use their knowledge and experience to advise you on which approach is best for you.
Mini tummy tuck: This procedure tightens up the lower abdominal area. If you have sagging skin or a pooch below the belly button only, you may be a good candidate for this less-invasive tuck. A mini tummy tuck has shorter surgery and recovery times than a full tummy tuck.
Full tummy tuck: This procedure is for patients who are unsatisfied with their upper and lower abdomen. Additionally, if you have separated ab muscles, you will need a full tummy tuck to have them repaired.
Schedule Your Consultation with UCI Plastic Surgery
If you are unhappy with the way pregnancy changed your waistline, schedule a consultation with one of UCI Plastic Surgery's highly qualified plastic surgeons to see if a tummy tuck can help you get your youthful silhouette back.
Contact us at one of our three locations in the Orange County area. For our Orange and Tustin locations, call 714-456-3077. You can reach our Costa Mesa location at 949-999-2411. We look forward to speaking with you!