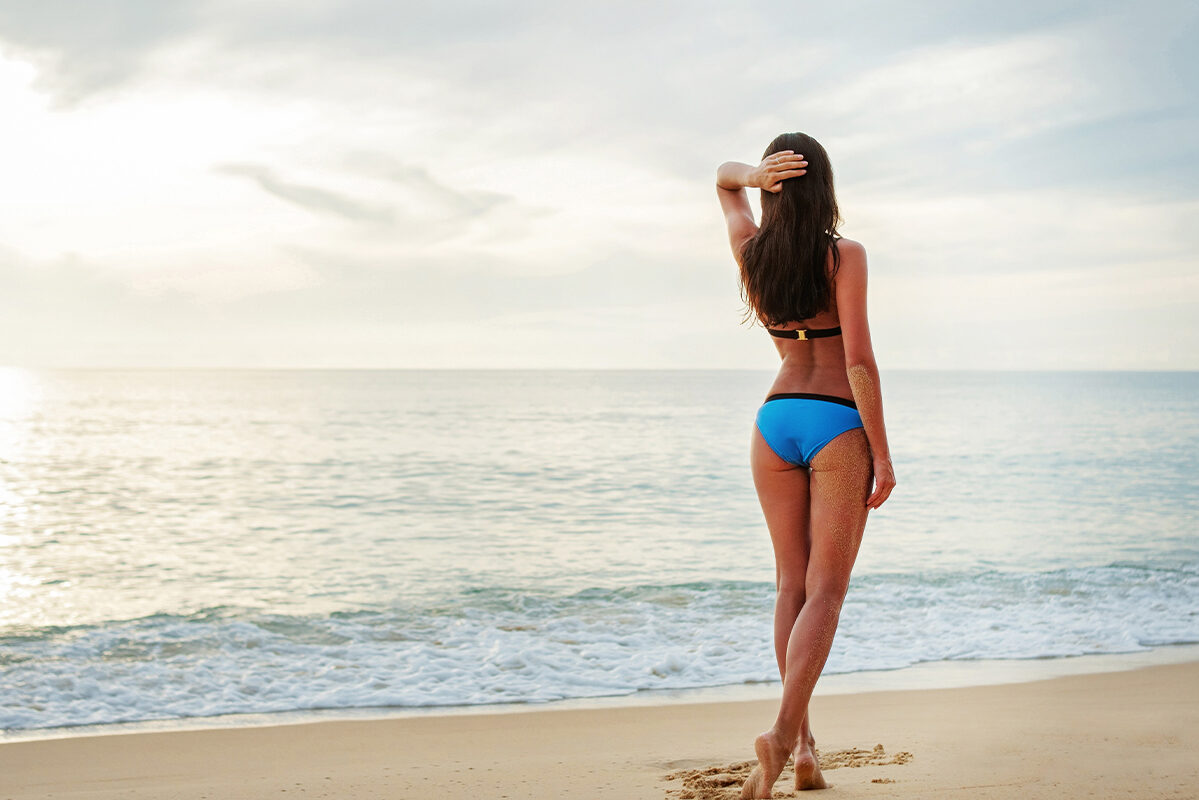 Brazilian Butt Lift in Orange County
The shape and proportions of the buttocks contribute to the beauty of a well-balanced body. The Brazilian butt lift uses fat grafting (also known as autologous fat transfer) to shift excess fat from elsewhere on the body into the buttocks to enhance their contour and appeal.
What Is a Brazilian Butt Lift?
The Brazilian butt lift uses natural fatty tissue to augment the buttocks' size and curves. The procedure follows a series of three steps:
Using liposuction, the surgeon harvests excess fat from a donor area (for example, around the waist, or on the abdomen or thighs), for a slimming effect.
The surgeon processes the extracted fat to remove dead cells and unwanted tissue.
They then inject purified fat into the buttocks for larger, shapelier contours with greater projection.
The Brazilian butt lift is two procedures in one. Liposuction trims bulges in a part of the body where excess fat is a problem, then processes and transplants that fat to the buttocks to enhance their curves.
Why Might I Consider a Brazilian Butt Lift?
The shape of your buttocks and where your body stores excess fat is largely a matter of heredity. You can reduce fat deposits with healthy diet and exercise habits, but you can't change your genetic makeup. If the proportions of your lower body bother you — for instance, a flat bottom and diet-resistant layers of fat on your thighs or waist — a Brazilian butt lift can redistribute your fat to give you more attractive curves.
Adding volume to your buttocks has the effect of reducing your waist-to-hip ratio, giving you more of an hourglass figure without increasing your overall body mass. The extra effect of slimming another part of your body with liposuction enhances these effects. You might wish to remove excess fat from your abdomen, lower back, waist, or thighs, accentuating the new curves of your buttocks.
The Brazilian butt lift improves your figure using only tissue from your body. It is a less invasive procedure than buttock augmentation with implants.
The Brazilian butt lift:
Increases buttock size, projection, and roundness, improving the curves of your lower body.
Reduces excess fat in a part of your body where it is not wanted, for a slimming effect that accentuates the added fullness of your buttocks.
Improves the proportional balance between the upper and lower body.
The most common goal of this procedure is cosmetic, to enhance a woman's figure, but it can also correct some deformities or restore body proportions after a disfiguring traumatic injury.
If you would like to increase the fullness of your buttocks and reduce excess fat on another part of your body, you are probably a good candidate for a Brazilian butt lift. The best candidates have good skin tone in the hips and buttocks, are in good overall health, and do not smoke.
You should also have realistic expectations for the procedure and a willingness to avoid sitting directly on your buttocks for several weeks after treatment.
Start Your Journey Today!
UCI Plastic Surgery is a leader in the field of cosmetic surgery. Each of our specialists is highly knowledgeable, trained, and committed to bringing our patients the latest advancements in the field. Learn how our experts can help you obtain industry-leading results by scheduling a consultation today.
What Does a Brazilian Butt Lift Entail?
Your surgeon will perform a Brazilian butt lift by removing excess fat from a place on your body where you have unwanted bulges and redistributing it to fill out your buttocks.
The procedure involves three steps:
Liposuction extracts fat cells from a harvest site elsewhere on your body where you have a layer of excess fat. That might be your hips, stomach, or thighs. The goal of this step is to remove unwanted fat for a slimming effect and to collect sufficient fat to boost your buttocks' curves.
The surgical team then cleans and purifies the fat extracted with liposuction, removing fluid and unwanted tissue to isolate the living adipose fat cells.
The purified fat is carefully injected into the buttocks in a fan pattern to add volume for a smooth, rounded result. They may briefly massage the area to ensure even distribution of the transferred fat.
Both the liposuction and injections take place using fine tubes, or cannulas. These are larger than hypodermic needles, so require small incisions for insertions. Your surgeon will close the incisions on the harvest site and your buttocks with stitches, and apply a compression bandage garment to minimize post-procedure bleeding and bruising.
The outpatient procedure will usually take place while you are under either general anesthesia or local anesthesia with sedation, depending on the amount of fat you're having transferred. When the anesthesia or sedation has worn off and you are alert again, we will release you to go home.
Because not all the grafted fat will take hold in its new location, your surgeon will inject some extra fat to ensure the results match your goals for the procedure, even with the loss of some transferred fat.
What Can I Expect in Recovery?
After your procedure, the doctor will send you home with specific post-operative instructions. Chief among these is the directive to avoid sitting or lying directly on your buttocks for the first two weeks. This rest period will allow the grafted fat time to establish itself in its new location and to retain the full, rounded shape that is the desired outcome.
You may need someone to help you with household chores for the first 24 hours. We encourage you to walk around shortly after your surgery, then to gradually build up to resume your normal exercise and activity routine over the next few weeks. You can expect some discomfort and swelling for the first week or so. These side effects typically resolve on their own during the second and third weeks.
You'll need to pay special attention to how you sit and lie down for several weeks after your surgery. Your goal is to keep the grafted fat from being pushed out of position. You'll need to sleep on your side or stomach and, at first, to stand for all other activities except using the toilet. After an initial healing period, you'll need to sit on an inflatable "doughnut" seat or with a pillow placed under your thighs to prevent pressure on your buttocks.
Following these precautions, you'll be able to return to work one or two weeks after your surgery. You'll see the final results from the procedure after four to six months.
Frequently Asked Questions About Brazilian Butt Lift
Below are some of the most common questions about butt augmentation. If you have a question we haven't covered, please call one of our trained plastic surgeons at UCI Plastic Surgery or contact us through our secure form.
Schedule a Consultation in Orange County
Contact us today to schedule a consultation and find out whether a Brazilian butt lift may be right for you. We'll answer your questions and explain what you can expect from the procedure. We have five Los Angeles-area offices: in Orange, Costa Mesa, Tustin, Yorba Linda, and Newport Beach, CA.
The doctors at UCI Plastic Surgery are leaders in the field of cosmetic surgery. Through their teaching and lecturing roles at UCI, they stay current with state-of-the-art techniques and technology. With their advanced technical skills, they consistently produce better, more natural-looking results for their patients.