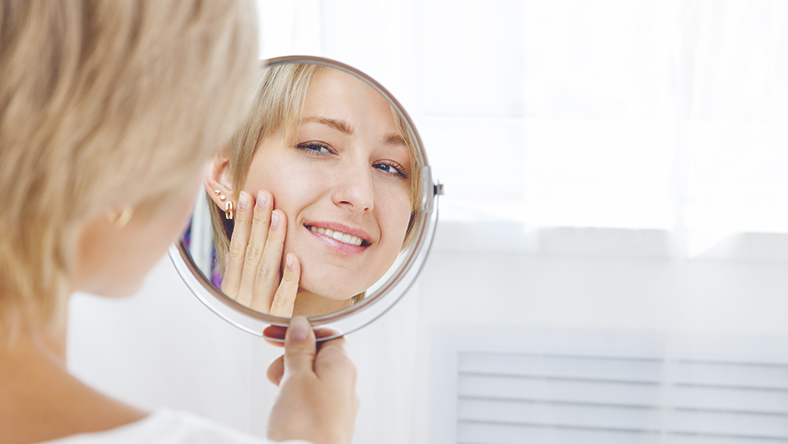 With so many cosmetic enhancement options on the market, it can be pretty easy to get overwhelmed by all of the different products, procedures, and techniques out there. Do you opt for a facelift? Or will a filler like Botox® or Juvéderm® do the trick? Maybe you've tried a few different approaches, but they just haven't given you the results you've been looking for. If that's the case, facial implants can produce some truly remarkable changes.
Great strides have been made in the last decade of medical technology research and development—today, facial implants are better and more natural looking than ever. Plastic surgeons will often recommend the use of facial implants to fill out areas in patients when other procedures just don't measure up.
But are facial implants right for you?
In Search of Improved Features
Over time, your face loses volume which can lead to a sunken or hollow look. Implants can fill the voids and can add volume to the areas that have become recessed or lack contour. Enhancements to the cheek areas can revitalize a flat and shapeless midface. Jaw implants can help strengthen and fill out the jawline. Those who suffer from a small chin can bring it in to balance with the rest of their face with a chin augmentation. You can also improve your smile with a lip treatment.
The Right Stuff
Of course, good candidates for facial implants have those naturally weaker features around the eyes, cheeks, midface, jawline, or chin that we just mentioned. And because of these issues, they're likely unsatisfied with the way they look. Strong candidates have a desire to improve the proportions, bring symmetry, or restore a more youthful appearance to their face. If you are self-conscious about the way you look, facial implant surgery can help turn around your self-image and give you confidence in your appearance.
Almost There
Being a good candidate isn't all about your looks, though. Just like any other cosmetic procedure, it's important that you're in good health. The best candidates are healthy individuals with no serious pre-existing medical conditions or active diseases, and their facial bones have reached physical maturity. Any smokers are at increased risk of complications after surgery, so it's important to try to quit before undergoing any cosmetic procedure. It's also important to have specific goals in mind and a positive and realistic outlook on what this surgery can do for you.
Find Out if You Are a Candidate for Facial Implants at UCI Plastic Surgery
All that aside, the best way to find out if you're a good candidate for facial implants is to set up a consultation with one of UCI Plastic Surgery's knowledgeable and dedicated plastic surgeons. You can learn more about the benefits facial implants can have, if there are any potential restrictions, and the risks associated with the procedure. At UCI Plastic Surgery, we are committed to helping you through the process and evaluating your specific needs. Please contact us today to schedule an initial consultation at one of our three Southern California practices.