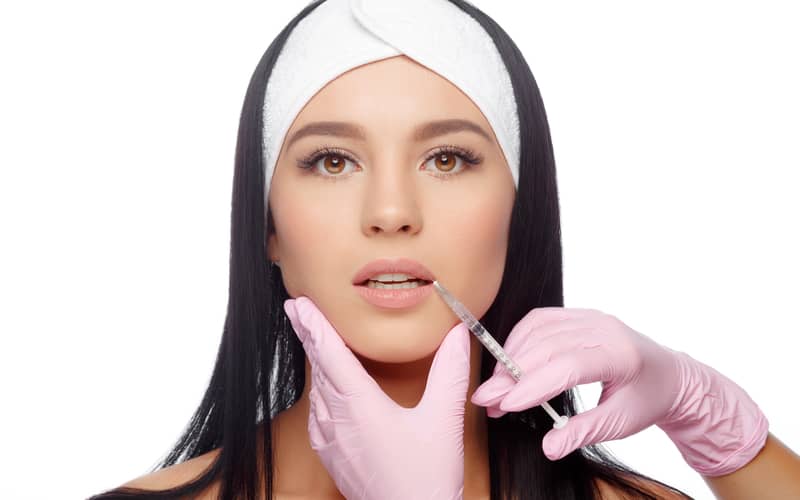 Hyaluronic acid occurs naturally in your body, including in your soft connective tissues, cartilage, and skin tissue. Hyaluronic acid-based fillers are a popular non-surgical cosmetic treatment for restoring volume and achieving a more youthful facial appearance.
UCI Plastic Surgery offers several hyaluronic acid filler procedures to our patients who want to address facial wrinkles, scars, and folds. Our skilled team members are passionate about helping you love the face you see in the mirror. From the moment we meet you, we make it our focus to understand your aesthetic and provide the most effective treatment possible.
How do Hyaluronic Acid Fillers Work?
Hyaluronic acid (HA) functions to keep skin hydrated and voluminous. When injected, HA fillers can restore volume where needed, addressing wrinkles, thin lips, and depressed facial features.
This non-surgical procedure takes little time and does not require anesthesia, so you can leave your appointment and continue on with your day. One of our experienced practitioners will deliver the injection and provide any necessary instructions to optimize your outcome. Typically, an HA filler procedure does not require downtime.
Results can last several months or longer, depending on the area treated and which filler is used. HA filler treatments can be repeated periodically to maintain your youthful look.
Which Hyaluronic Acid Filler is Right for Me?
A consultation at UCI Plastic Surgery is the first step to finding out which HA filler can deliver the results you want. Depending on your concerns, our experienced team will select the most effective option. In some cases, other injectables like Botox® or Dysport® may be recommended.  We offer the following FDA-approved HA fillers:
Juvederm® – This HA filler is a popular choice among patients and plastic surgeons alike. Patients love the difference that Juvederm® can make on nasolabial folds, thin lips, sunken facial features, and wrinkles. Plastic surgeons appreciate that this HA filler is biodegradable and can provide results that last up to a year.
Voluma® – Voluma® is a Juvederm® product approved for replacing volume in your cheeks. Aging can cause you to lose fat in your face, which can give your face a hollow, sunken appearance. Restoring volume in your cheeks counters this fat loss to maintain your youthful-looking face.
Restylane® – A Restylane® injection delivers hyaluronic acid to smooth skin depressions and restore volume. This HA filler can be used on nasolabial folds, thin lips, and facial wrinkles.
Belotero Balance® – This HA filler is intended to fill facial lines and wrinkles that are moderate-to-severe. Results can last up to six months or longer.
Contact Us for a Hyaluronic Filler Consultation in Orange County
Our experienced practitioners are highly trained to deliver great results. If you're ready to take years off your face, contact us to schedule a consultation at one of our three Orange County locations. For our Orange and Tustin locations, call 714-456-3077. For our Costa Mesa location, call 949-999-2411.
With UCI Plastic Surgery, you can trust that your comfort, satisfaction, and safety are always our priority. We look forward to helping you reach your aesthetic goals.