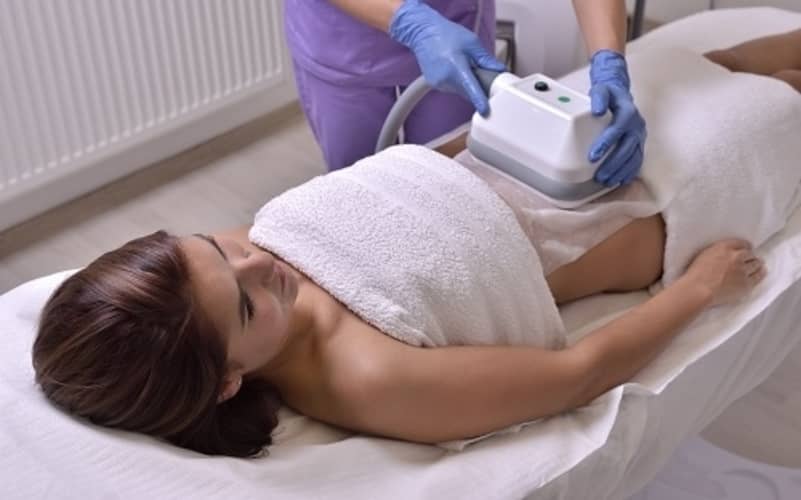 There's nothing worse than fat getting in the way of you looking your best in your summer wardrobe, especially when you spent your winter hitting the gym and being diligent about your diet. If you've put in the time exercising and committed to clean eating, you have earned a body that reflects your efforts.
At UCI Plastic Surgery, we have helped many patients like you get the beach body they deserve with CoolSculpting. Our plastic surgeons are dedicated to finding out your goals and choosing a customized treatment plan to help you lose unwanted fat and attain a slimmer physique.
How Does CoolSculpting Work?
This non-surgical body contouring method is based on cryolipolysis, a process of freezing fat cells so they can be naturally eliminated from the body. Unlike other body contouring methods, there is no need for anesthesia, incisions, or lengthy recovery times.
In a CoolSculpting session, you will sit or lay in a comfortable position and the CoolSculpting device will be placed on the treatment area. Controlled cooling will target fat cells beneath the skin, cooling them till they freeze.
This process takes about one hour per treatment area. In the weeks following your procedure, your body will excrete the dead fat cells, smoothing and flattening your figure just where you want.
Am I a Candidate for CoolSculpting?
CoolSculpting is designed for people who are at a healthy weight who have pockets of stubborn fat in certain parts of the body. You need be in good physical health and have a BMI less than 30. You should also be committed to maintaining a healthy lifestyle in order to have long lasting results from the procedure.
You can target fat in nine different trouble spots with CoolSculpting:
Beneath your chin
Upper arms
Bra fat
Flanks
Abdomen
Beneath your buttocks
Inner thighs
Outer thighs
Above your knees
CoolSculpting can be a great way to complement your diet and exercise efforts by eliminating fat cells in these areas. It is important to note that CoolSculpting is not for weight loss. You should already be at or near your ideal weight before undergoing the procedure. If you have struggled to maintain your ideal weight, our plastic surgeons may recommend that you work with a nutritionist and/or a personal trainer in order to accomplish your weight loss goals before undergoing CoolSculpting.
Reserve a Spot at our CoolSculpting Event
We are excited to offer a CoolSculpting Lunch & Learn event with Dr. Gregory Evans on June 27, 2019 from 11:00 AM to 2:00 PM. We will provide a tasty lunch and will give a short presentation to explain this effective body contouring method.
You will get to see live demonstrations of CoolSculpting by Dr. Evans and have access to exclusive promotions. In addition to getting 50% off consultation cost and 25% off CoolSculpting, you'll have a chance to win CoolSculpting cycles in a raffle.
Call us today at 714-456-3077 to RSVP for this fun and informative event at our Orange location.
Schedule a Consultation
If you are interested in CoolSculpting or other body contouring procedures, you can schedule a consultation at one of our three Orange County locations. To reach our Costa Mesa practice, call 949-999-2411. For our Tustin and Orange practices, call 714-456-3077.