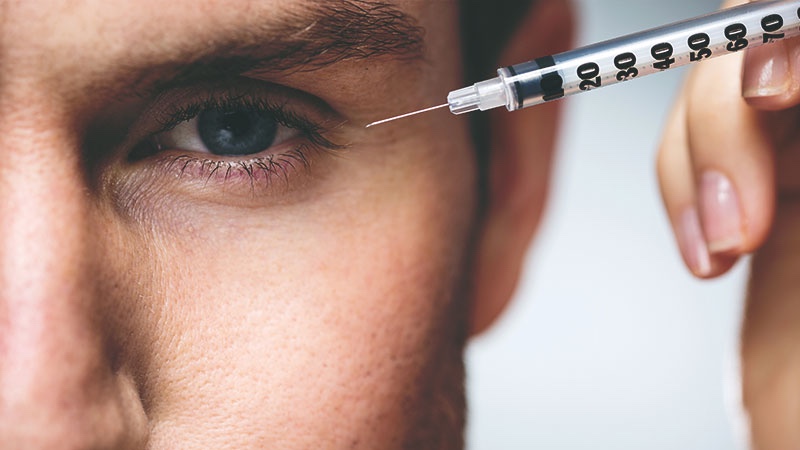 It was 15 years ago this past April that onabotulinum toxin A was first approved by the Food and Drug Administration (FDA) for cosmetic use. Back then it was only okayed for fighting frown lines—the vertical creases between the eyebrows that appear after lifelong use of the surrounding muscles. Then came crow's feet, but now Botox is making news again.
Everyone's favorite wrinkle wonder drug has just won another approval from the FDA, this time for treating forehead lines. Although it's already been used "off-label" by doctors to temporarily free foreheads from wrinkles for years, it's now official.
The Botox Impact
No product or technique has affected the aesthetics industry in quite the same way Botox has. Its effect has sent shock waves throughout the industry since 2002. Many people are opting for alternatives to surgical procedures because it takes less time from their schedule and could be used to maintain a youthful appearance until surgery may be needed to achieve their goals.
It's also ushered in a new generation of injectable fillers like Juvederm® and Restylane® that turn back the clock on the aging process. This trend of minimally invasive treatments now makes up nearly 90 percent of all cosmetic procedures in the U.S.
However, Botox is still the king. A staggering 7 million treatments were given last year in the U.S. Botox injections accounted for more that 40 percent of all cosmetic procedures performed in 2016. Don't think it's just women who are enjoying all the benefits either. Guys are getting in on the game too. Hundreds of thousands of men receive these injections to target unsightly lines and wrinkles every year.
The best part just may be how quick and easy it is. Most Botox treatments usually only take about a half-hour. That means you can get in and out and back to your day. There's also little to no recovery time so you'll start to notice a more youthful look in no time. Of course, this is a temporary fix with results typically last about three months.
If you are interested in Botox or any of the other injectables and fillers we offer, please don't hesitate to schedule your initial consultation today. Our entire team is committed to helping you find the best Botox treatment option available to suit your needs.