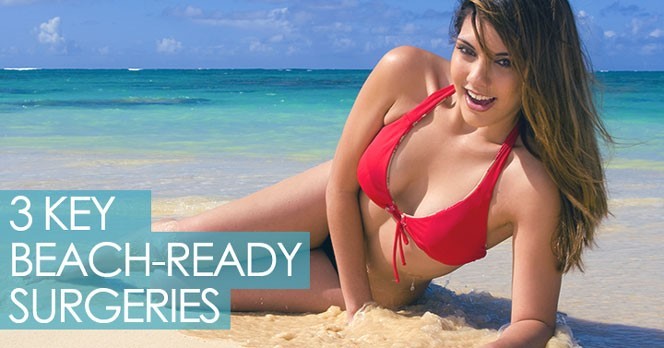 If you are tired of struggling to change your body with diet and exercise and are looking for more of a transformation this year, talk to the plastic surgeons at UCI Plastic Surgery about body contouring procedures that can reshape and enhance your figure. We perform several targeted procedures that can tighten loose skin, get rid of excess fat, and create a more proportionate figure. We understand the struggles many women and men have when it comes to improving their appearance. To achieve your best results, we'll customize your procedure to target the specific areas you want to improve upon, and will help you achieve your ideal body shape.
These three body contouring procedures can enhance your figure:
Breast Lift
Women who have sagging breasts, but are happy with their cup size, can enhance their feminine silhouette with a breast lift. A breast lift is ideal for women who have sagging or drooping breasts after pregnancy, weight fluctuations, or simply because of genetics or aging. We can reposition the breasts and tighten up the skin to restore your youthful, perkier appearance. All of this can be achieved without inserting breast implants. If you are interested in increasing the size of your breasts, we can perform this procedure in conjunction with breast augmentation surgery.
Tummy Tuck
If you have loose skin around the midsection or are self-conscious about a protruding stomach, talk to us about tummy tuck surgery. A tummy tuck will get rid of excess skin around the midsection and can also tighten up the abdominal muscles. If you aren't able to tighten up your midsection with your own efforts, tummy tuck surgery may be the most effective way to enhance your figure and achieve the flat and toned stomach you've always wanted. We can customize this surgery to ensure we target all of your concerns.
Thigh Lift
If you have developed loose or sagging skin around the outer thighs or below the buttocks, you may be a good candidate for a thigh lift. This is another procedure that removes excess skin and tightens up the target area to create a well-contoured appearance. We can perform the thigh lift as part of a full body lift to help you achieve your ideal figure.
Learn more about plastic surgery procedures that can enhance your figure by scheduling your body contouring consultation at UCI Plastic Surgery today.