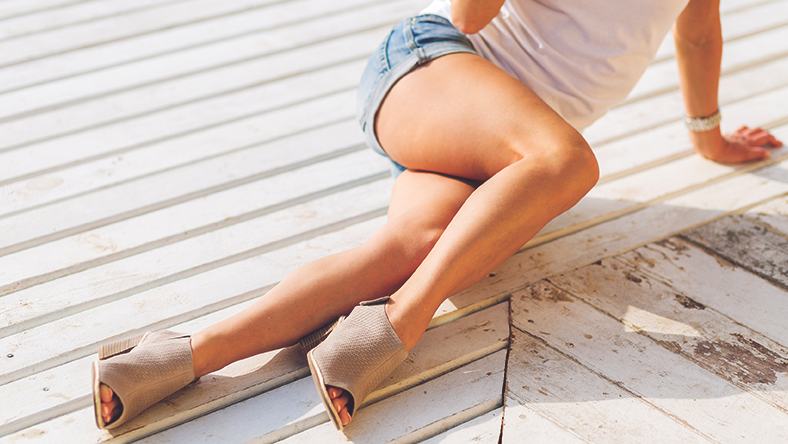 Skies out, thighs out! Nowhere is this truer than here in sunny Southern California. While many men and women cannot wait to put on their summer skivvies, for those struggling with spider veins, the thought of baring their legs is far less inviting.
What Are Spider Veins?
Most commonly found on the legs, spider veins are sometimes present on one's face and elsewhere on the body. Found close to the skin's surface, spider veins are flat and thread-like, and are best known for their web or branch-like appearance. Other distinguishing characteristics include:
Spider veins are approximately 0.5 to 1mm wide
Spider veins are often connected
Spider veins can be red, blue, or purple in color
While not particularly painful, for some, spider veins are a constant source of physical discomfort. Most, however, are more bothered by their unsightly appearance.
What Causes Spider Veins?
Unfortunately, there is little that you can do to prevent spider veins from forming. While primarily genetic, age is also a common culprit. By the age of 50, it is believed that one out of every two individuals will have developed spider veins. Women are also more prone than men to developing spider veins. Other factors include hormonal changes, obesity, and a lack of movement.
What Can You Do?
For the large part, spider veins are inevitable. Some may experience relief from lifestyle changes such as weight loss, a healthy diet, or committing to an exercise routine. However, for many, small lifestyle changes are often not enough.
Fortunately, sclerotherapy is a relatively simple and minimally invasive injectable treatment that allows UCI Plastic Surgery's trained specialists to reduce the appearance and discomfort of spider veins. Safe and effective, sclerotherapy works by eliminating spider veins without interfering with the body's circulation or blood flow.
Look and Feel Good this Summer with Sclerotherapy
This summer, don't let spider veins hold you back. The greatest benefit of sclerotherapy is that our patients are happy with their results, and are confident with their newly spider vein-free physique.
There is still plenty of summer left—schedule your sclerotherapy consultation at UCI Plastic Surgery.