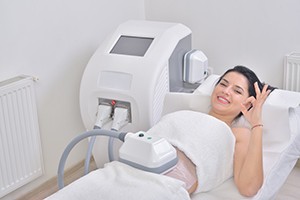 We've shared with you before some of the frequently asked questions about CoolSculpting that our patients bring to UCI Plastic Surgery. Our patients' curiosity is piqued by the possibilities of this non-surgical service, but perhaps the biggest and most common question we get is: Am I a candidate?
The best way to find out if CoolSculpting is right for you is to schedule a consultation with one of our experienced doctors. Keep reading for general information about the safety and effectiveness of CoolSculpting to see if it matches your needs and goals.
Is CoolSculpting Safe?
CoolSculpting is approved by the FDA to reduce fat by freezing it. Frozen fat cells are filtered out by the body, leaving you with a toned look in the target areas. FDA approval signals that the technology has been subject to rigorous review by the nation's leading regulatory body for drugs and medical devices.
Much like liposuction, you should be close to your ideal weight before undergoing CoolSculpting. Neither option is a weight loss treatment – both procedures are designed to trim and contour the body, not shed a lot of pounds.
Patients with blood disorders who react negatively to cold temperatures are not candidates for CoolSculpting. Our physicians will discuss your medical history before you undergo CoolSculpting to minimize the potential of a negative reaction.
What Areas Can CoolSculpting Treat?
CoolSculpting has proven results for men and women. Many patients pursue CoolSculpting to get rid of unsightly fat on the torso. Beach bodies are part of Southern California culture, and CoolSculpting is a non-invasive way to achieve that ideal look:
Popular CoolSculpting treatment sites for the midsection include:
The stomach
Upper back
Lower back and muffin top
Waist and love handles
Buttocks
Another popular use for CoolSculpting is reducing the double chin area for a toned, sculpted lower face, neck, and facial profile. In addition, many patients have reduced fat on the upper arms and thighs through CoolSculpting treatment.
What Is the Downtime with CoolSculpting?
One advantage of non-surgical procedures like CoolSculpting over surgical body contouring is the ease of recovery. Most patients can get back to all of their usual activities immediately after the CoolSculpting appointment. This makes it a suitable option for patients with a variety of lifestyle and schedule needs, from businesspeople to parents.
Side effects of CoolSculpting are generally minimal. Patients may experience bruising and discoloration at the treatment site, but this tends to be short-lived.
So, Am I a CoolSculpting Candidate?
Now that you know what CoolSculpting can do, who it's for, and what to expect, you may be ready to take the next step. That's where UCI Plastic Surgery comes in.
Our experienced team of doctors is proud to help patients achieve outstanding cosmetic results through proven clinical solutions. We have seen promising results with CoolSculpting, with many patients experiencing improvement in as little as a few weeks. We are happy to discuss your CoolSculpting candidacy at your initial appointment.
We have three offices in Southern California. Contact UCI Plastic Surgery online, call us in Orange or Tustin at 714-456-3077, or dial 949-999-2411 to reach us in Costa Mesa.