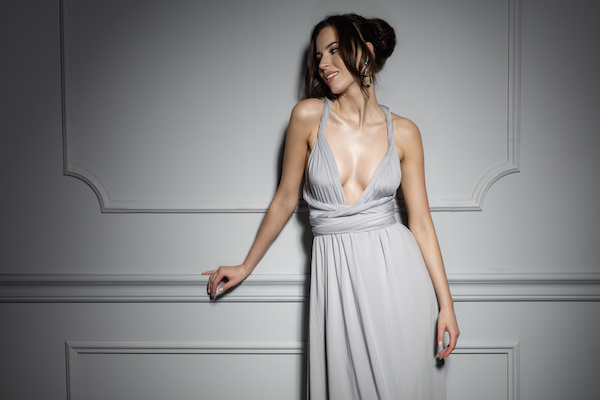 While forgoing a bra for the occasional backless cocktail dress won't likely ruin your breast implants, avoiding a bra for extended periods of time is not recommended. Your breasts are in a daily fight against gravity. The support of a bra is essential in this battle.
Generally speaking, you shouldn't consider going braless for at least six weeks after breast augmentation. Your breasts need to be thoroughly supported during this time to ensure optimal healing. After six weeks, you may occasionally go braless, but try to keep this to special occasions, and don't make it a habit.
Wearing a Bra After Breast Augmentation
A variety of factors can contribute to breast ptosis, or sagging. Age, genetics, breast size and bra-wearing habits can all affect the perkiness of the breasts. Women with large breasts, or large breast implants, are more susceptible to the effects of gravity and breast sagging.
Immediately following breast augmentation surgery, bras are essential to a good recovery. Discuss your options with your breast surgeon. Some of the best bras to wear after breast surgery include:
Compression bra: Compression bras are generally recommended after breast augmentation to protect incision areas. They are typically softer than regular bras, and provide increased stability to prevent movement.
Underwire-free bra: Underwire bras offer great support, but they may do more harm than good during your breast augmentation recovery. This is because the sturdy wire may irritate your healing incisions. Bras that do not have underwires are softer on your breasts and allow them to heal without irritation.
Front-closure bra: Bras that close in the front are more comfortable and offer ideal support to your breasts while your incisions heal. They also provide the necessary compression to optimize healing.
Adjustable straps and thick bands: After breast augmentation, you may need to adjust your straps from time to time due to swelling. Bras with front-adjustable straps allow you to make necessary adjustments without having to take off your bra. Thick bands are necessary to give additional support beneath the breasts.
While your initial healing period may only take a few weeks, it can take several months for swelling to subside and your breasts to completely stabilize. This may result in you wearing multiple bra sizes. For this reason, it may be a good idea to stick to basic styles that don't cost too much.
Once you've achieved your final results, you may find it beneficial to be professionally fitted for a bra to ensure an ideal fit and maximum comfort that best complements your attractive new figure.
View Our Gallery
Check out our before and after photos of our breast augmentation patients, click here.
Contact Us Today For Your Breast Augmentation Consultation
To learn more about breast implants and your candidacy for breast augmentation surgery, contact UCI Plastic Surgery today to schedule an initial consultation with one of our board-certified plastic surgeons. Call 714-456-3077 to schedule a consult at our Orange or Tustin location, or call 949-999-2411 for a consultation at our Costa Mesa location.
Start Your Journey Today!
UCI Plastic Surgery is a leader in the field of cosmetic surgery. Each of our specialists is highly knowledgeable, trained, and committed to bringing our patients the latest advancements in the field. Learn how our experts can help you obtain industry-leading results by scheduling a consultation today.