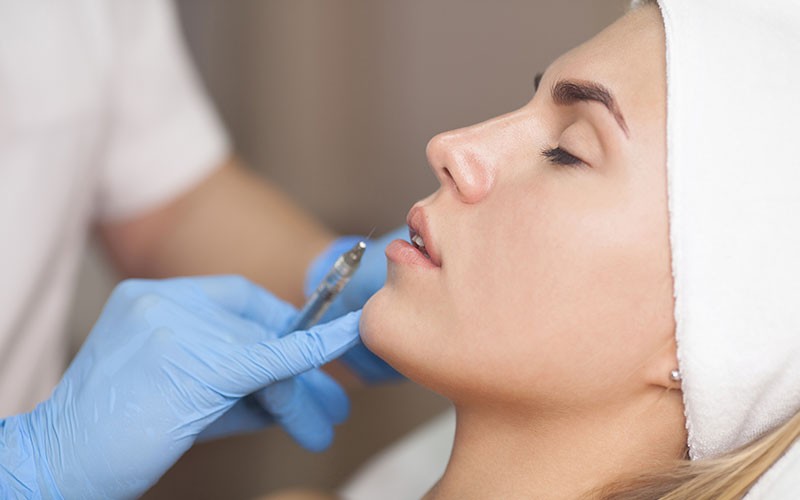 The aging process can affect your appearance in a number of ways. Lost volume, lines and wrinkles, and thinning lips are all common concerns that many of our MedSpa patients come in for. But there's a single injectable that can reverse all of these unwanted signs of aging—Juvéderm®.
Lines, Wrinkles, Folds, and Creases
Fine lines and wrinkles are probably the most common symbols associated with getting older. They are an unmistakable sign of more years spent on this planet. And for some, they can develop into severe folds and creases. But Juvéderm can wipe out those unwanted age-definers in two of the most common trouble spots: The nasolabial folds, affectionately dubbed the smile or laugh lines, that run from the sides of the nose to the mouth, and the marionette lines which start at the corners of the mouth and go down the sides of the chin.
Lost Volume
As you age, your once full and round cheeks will begin to lose their natural volume and shape. This can lead to a flat, hollow, or gaunt appearance to the cheeks and overall appearance. Fortunately, you can restore your youthful midface contours with Juvéderm Voluma®. By adding volume directly to these areas, your cheeks will instantly regain their youthful volume and be subtly lifted. Not only will this have the effect of filling out your midface once again, it can work to wipe away many of the lines and wrinkles responsible for an aging appearance.
Thin Lips
Just like other areas of the face, the lips are susceptible to a decrease in fullness due to the aging process. But whether your lips have lost their plump pucker over time or they've always been naturally thin, Juvéderm can give you the full pout that you desire. However, it's not just the lips themselves that may need a boost. In many cases, the surrounding areas of the mouth can also benefit from precise injections. Lines and wrinkles, especially the vertical lip lines (often referred to as lipstick lines), can be an unattractive result of lost lip volume.
The Juvéderm Treatment
The Juvéderm procedure is pretty quick and easy. After a personal consultation to determine the best approach for your specific volumizing needs, the treatment itself will take just minutes. There's typically little to no downtime and you can get back to work or your daily routine immediately following your session. Of course, you'll be provided with aftercare instructions by your injector to ensure the best possible outcome. You will notice results immediately as facial volume and shape are improved, wrinkles and lines smoothed out, and the lips filled in.
Restore Lost Volume with Juvéderm at UCI Plastic Surgery
Juvéderm can work to address a wide range of age-related volume concerns in the midface and lips. If you'd like to learn more about this or any of our other non-surgical rejuvenation approaches, please schedule your initial consultation at UCI Plastic Surgery's Orange, Costa Mesa, or Tustin locations today. Our experienced surgical team is committed to helping all of our Southern California patients look their very best.